Obituary for Guadalupe Lopez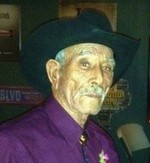 Guadalupe "Lupito" Lopez, 84, of Andrews passed away on Sunday, January 7, 2018 at home with family members by his side.

Family and friends will gather to celebrate Mass at 10:00 AM Thursday, January 11, 2018 at Our Lady of Lourdes Catholic Church, 201 NE Avenue K, in Andrews. Interment will follow in the Andrews North Cemetery. Visitation will be on Tuesday from 12 PM – 9 PM and Wednesday from 9 AM – 9 PM, and rosary services will be recited at 7:00 PM Wednesday at McNett Funeral Home Chapel. Please celebrate his life by visiting www.mcnettfuneralhome.com.

Guadalupe was born on September 4, 1933 in Ciudad Acuna, Coahuila, Mexico to Jose Vargas Lopez and Juanita Mendez Capetillo. He was raised in Villa Union, Coahuila, Mexico and married Eulalia Reyes on June 25, 1955 in Villa Union. They moved to Bandera in 1975 and then to Andrews in 1977.

Lupito worked many years as a floor hand on a pulling unit in the oil field in Andrews. He had worked for R & H Well Service, Gist Well Service, and Pool Well Service. He had a passion for raising farm animals and loved attending the horse races. He enjoyed playing cards with his family and friends, and enjoyed watching the Chicago Cubs on TV. He was always happy at the family gatherings, especially the holidays, birthdays, and special occasions. He was very cheerful, when anyone would stop by and visit, especially his siblings from out of town. He was a part of many lasting memories and made a huge impact in his family's lives. He will be remembered most of all for the love he showed his children, grandchildren, and great grandchildren. He will always be a beautiful blessing to his family and will be dearly missed. He was a member of Our Lady of Lourdes Catholic Church. He was preceded in death by his wife, Eulalia Lopez on December 9, 2013, his parents, daughter, Juanita Lopez, 5 siblings, Asencion Lopez de Salinas, Ernestina Lopez de Zamarripa, Maria Lopez de Munoz, Cresencio Lopez, and Santiago Lopez; 3 grandchildren, Joseph Lopez, Juan Jose Rondan, Jose Mario Lopez, Jr., and 2 great grandchildren, Andrew Noel Nino, Adriel Guadalupe Lopez.

Lupito is survived by his 11 children, Jose Mario Lopez and wife, Alice, of Andrews, Andres Lopez of Andrews, Leticia Rondan and husband, Juan Raul, of Andrews, Maria Guadalupe Bejarano and husband, Benito, of Andrews, Jose Santos Lopez and wife, Cindy, of Kingsland, Damiana Rondan and husband, Jesus, Jorge Luis Lopez and wife, Rosa, of Andrews, Rosendo Lopez and wife, Shannon, of Midland, Francisco Lopez and wife, Belinda of Fort Benning, Georgia, Jose Refugio Munoz and wife, Brenda, of Andrews, and Jorge Luis Lopez, Jr. and wife, Beatrice, of Andrews; 5 brothers, Fortunato Lopez of Villa Union, Mexico, Rosalio Lopez and wife, Guadalupe, of Bandera, Jose Angel Lopez and wife, Paula, of Dimmitt, Guillermo Lopez and wife, Mariana, of Pleasanton, Lorenzo Lopez and wife, Diamantina, of Andrews; 1 sister, Eualia Lopez de Melchor and husband, Gilberto, of Villa Union, Mexico; 27 grandchildren; 63 great grandchildren; and 1 great great granddaughter.