Obituary for Jorge Garcia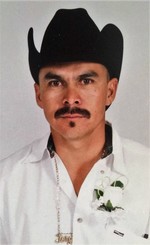 Jorge Eladio Garcia, 46, of Andrews passed away on Tuesday, December 19, 2017.

Family and friends will gather to celebrate his life at a graveside service at 3:30 PM Wednesday, December 27, 2017 in the Andrews North Cemetery. Visitation will be held at McNett Funeral Home Chapel on Tuesday from 12 PM – 9 PM and Wednesday from 1 PM – 3 PM, and prayer services will be held on Tuesday at 7:00 PM. Please celebrate his life by visiting www.mcnettfuneralhome.com.

Jorge was born on June 19, 1971 in Ojinaga, Mexico to Refugio Garcia and Maria De La Luz Sanchez Garcia. He was raised in La Mula, Mexico and moved to Andrews in 1994. He had worked as a roustabout and gang pusher for Martins, Inc., Quail Construction, Weatherford, and Nolan Brunson. He enjoyed going four wheeling in the sand hills, loved Spanish music, would give the shirt off his back to anyone, and loved to spend time with his children and grandchildren. He was preceded in death by his mother, Maria De La Luz Garcia in 2005 and his son, Aaron Garcia in 2013.

Jorge is survived by his 2 children, Ariana Garcia and husband, Luis Almance, of Andrews and Jorge Garcia, Jr. of Andrews; father, Refugio Garcia of Seminole; 2 brothers, Juan Garcia and Refugio Garcia, Jr., both of Seminole; 7 sisters, Grasia Garcia, Ramona Garcia, Adelina Flores, Socorro Garcia, and Judy Garcia, all of them from Seminole, Elida Garcia of Andrews, and Elizabeth Garcia of Odessa; 2 grandchildren, J'Lenne and Ayleen Almance of Andrews.