Obituary for Evangelina Flores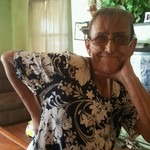 Evangelina "Lina" Flores, 61, of Andrews passed away on Tuesday, April 4, 2017 in Andrews.

Family and friends will gather to celebrate her life at 2:00 PM Saturday, April 8, 2017 at Northcrest Baptist Church, 1410 NW 5th Street, in Andrews with Pastor Jerry Bailey and David Ashabranner officiating. Interment will follow in the Andrews North Cemetery. Prayer services will be at 6:00 PM Friday at McNett Funeral Home Chapel. Services are under the personal care of McNett Funeral Home, and please celebrate her life by visiting www.mcnettfuneralhome.com.

Lina was born on August 19, 1955 in Pecos, Texas to Valentine Flores and Felicidad Yharte Flores. She was raised in Ozona and married Felix O. Flores, Sr. on March 15, 1984 in Sheffield, Texas. She had lived in Ozona, Sheffield, and moved to Andrews in 1995. She was a homemaker and had worked at Furr's and Porter's Thriftway in Andrews. She loved video games, Nintendo, PacMan, fishing, dancing, and going cruising with her family in the car. She loved to fight with her husband and keep him in line by stomping, giving him the fist, or putting him in the headlock. She loved her grandchildren and was known to them as "Mimi". She had a loveable personality, joyful, always smiling, and was known as a fighter, especially going through her sickness over last several years. She was a member of Northcrest Baptist Church. She was preceded in death by her parents, 2 sons, David Adwell and Felix Flores, Jr., sister, Gloria Flores, 3 brothers, Mario, Reynaldo, and Robert Flores, and granddaughter, Kayla Sue Garza.

Lina is survived by her husband, Felix O. Flores of Andrews, 8 children, Johnny Adwell of Sterling City, Marievell Kimbrell of Sonora, Bernie Adwell and wife, Christina of Alvin, Mario Adwell of Sterling City, Adam Flores, Elizabeth Garza, Abel Flores and wife, Tabitha, and Beto Flores and wife, Brittany, all of Andrews, 4 brothers, Valentine Flores and wife, Juanita, of Iraan, Juan Flores and wife, Carmen, of Ozona, Richard Flores and wife, Juanita, of Lamesa, and Alfredo Flores and wife, Ofelia, of Chicago, Illinois, 27 grandchildren, and 1 great grandchild.