Obituary for Larry Harper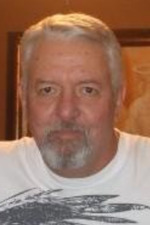 Larry Dean Harper, 67, of Andrews passed away on Wednesday, March 29, 2017 in Odessa.

Family and friends will gather to celebrate his life at 2:00 PM Saturday, April 1, 2017 at the Second Baptist Church, 107 NW 7th Street, in Andrews with Pastor Jimmy Baxley of Vista Pointe Church in Hobbs, NM officiating. Interment will follow in the Andrews North Cemetery. The family will receive friends on Friday from 6 – 8 PM at the funeral home. Please celebrate his life by visiting www.mcnettfuneralhome.com.

Larry was born on February 17, 1950 in Clarksville, Texas to Melvin Harper and Emily Geraldine Clayton Harper. He had attended Andrews High School and had worked for Mrs. Baird's as a deliver driver for several years. He had worked for almost 30 years for Unocal, which later became Chevron/Texaco and retired as a senior production foreman. He had coached his children football and baseball through the Andrews Boys and Girls Club. He loved old antique cars, University of Oklahoma Sooners, Dallas Cowboys, and New York Yankees. He had a passion for hunting, fishing, and enjoyed the times he had with his family at their lake house in Brownwood. He had a very generous heart and loved to show his compassion for others, and his legacy will continue to live on through his children and grandchildren.

He was a very talented musician and his music career began at the age of 3, when his mom taught him how to play the guitar. A couple of years later, Eddie Arnold happened upon Larry playing in a barber shop and invited him to play with the Louisiana Hayride. He touched many lives with his talent and love of music, not only by singing and playing, but by teaching as well. Highlights of his career include playing with Eddie Rabbit and touring the local area playing various venues and at the Andrews Senior Citizen Center Dances with his band, The Midnight Riders. He had led the praise and worship team at Second Baptist Church for many years.

Larry is survived by his 2 sons, Larry P. Harper and wife, Jessica, of Hobbs, NM and Jason Harper and wife, Robin, of Andrews; 1 daughter, Tiffany Trotter and husband, Darrell, of Andrews; 8 grandchildren, Paula Botello, Britney Wilkinson, Ethan Trotter, Zach Harper, Matthew Trotter, Jacob Harper, Taylor Harper, and Toby Trotter; 4 great grandchildren, and loved by many cousins, nephews, and nieces. Larry was preceded in death by his father, Melvin Harper, mother, Jerry Clayton Minica, sister, Linda Porter, and infant daughter, Paula Lynn Harper.

Memorials may be sent to Andrews Education Foundation, PO Box 481, Andrews, Andrews, Texas 79714.