Obituary for John Voorhies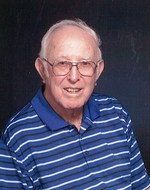 John Voorhies, 92, of Andrews passed away on Sunday, March 26, 2017 in Andrews.

Family and friends will gather to celebrate his life at 10:00 AM Thursday, March 30, 2017 at the First Baptist Church in Andrews with Rev. Brant O'Connor, officiating. Interment will follow in the Andrews North Cemetery under the personal care of McNett Funeral Home in Andrews. The family will receive friends on Wednesday, March 29, from 6-8 PM at McNett Funeral Home. Please celebrate the life of John by visiting www.mcnettfuneralhome.com.

John was born on December 6, 1924 in Erath County, Texas to Walter Brown and Roxie Annabelle Devers Voorhies. John served in the Army.
He married Junnye Faye Owens on December 13, 1947 in Dublin, Texas. They moved to Andrews in 1947, John was a mechanic with Phillips Petroleum Company for 32 years before he retired. John loved to fish, their trips were planned around where the fishing would be good. He also loved raising a garden and took great pride in the things he grew. He was a member of First Baptist Church in Andrews. John was preceded in death by his parents, four brothers; Sherwood, Thomas, Billy Gene and Donald Voorhies; five sisters, Iva Voorhies, Stella Viator, Sybil Evans, Dorothy Brannam and Helen Kirk.

His is survived by his wife, Junnye Voorhies of Andrews, three daughters, Lisa Dushane of Andrews, Denese and husband Clay Gray of Clyde, Texas, Judy Banta of Kyle, Texas, a son, Johnny and wife Debora Voorhies of North Zulch, Texas; twelve grandchildren and seventeen great grandchildren.